Fata Morgana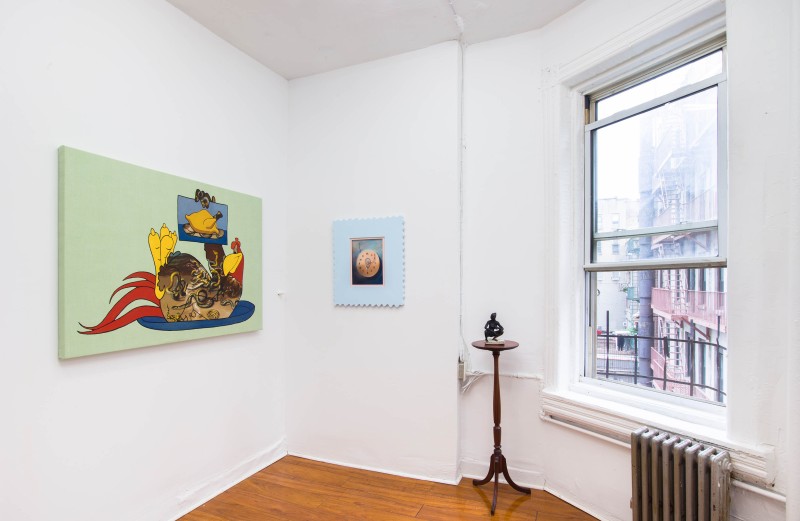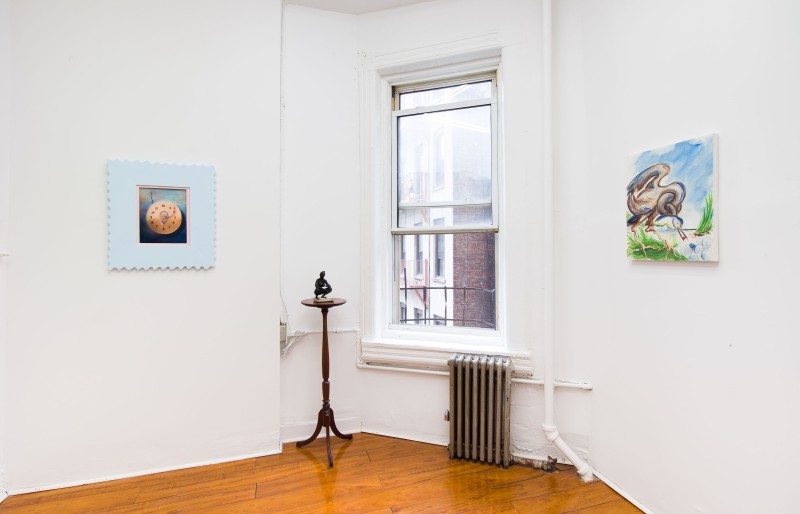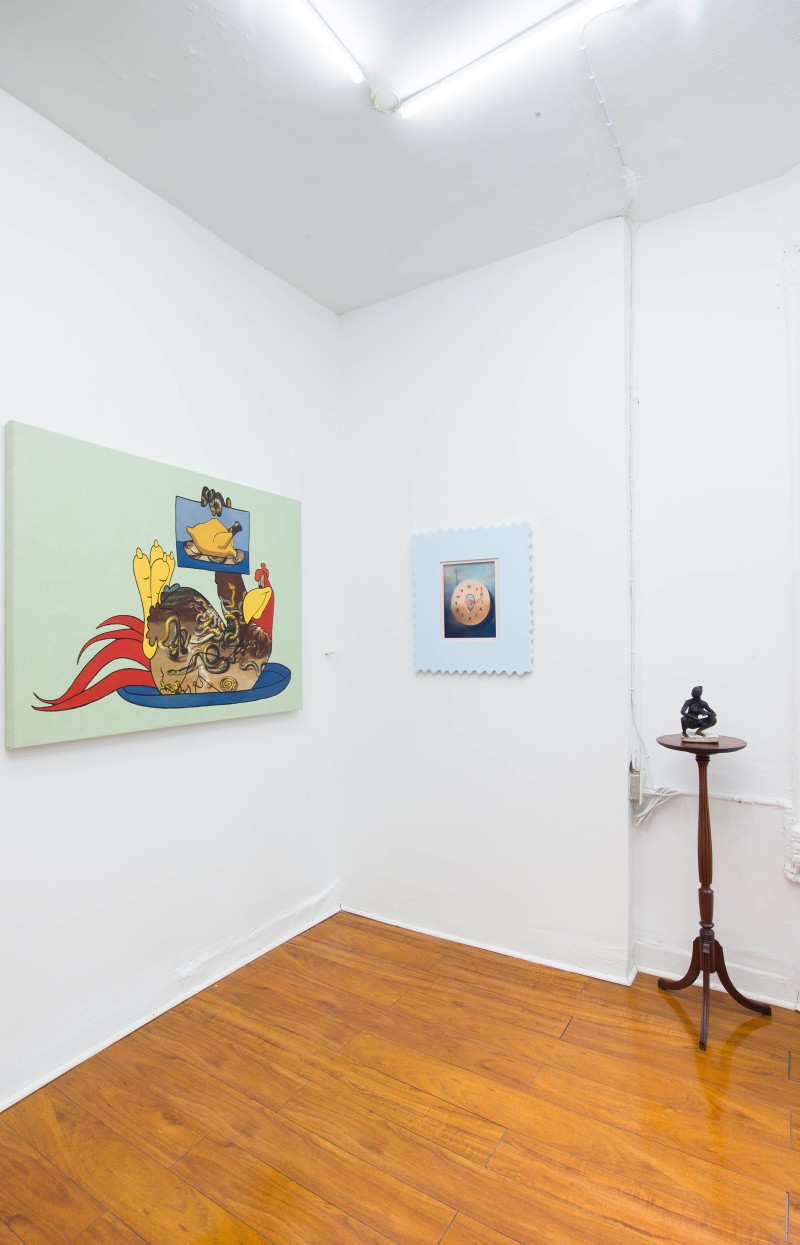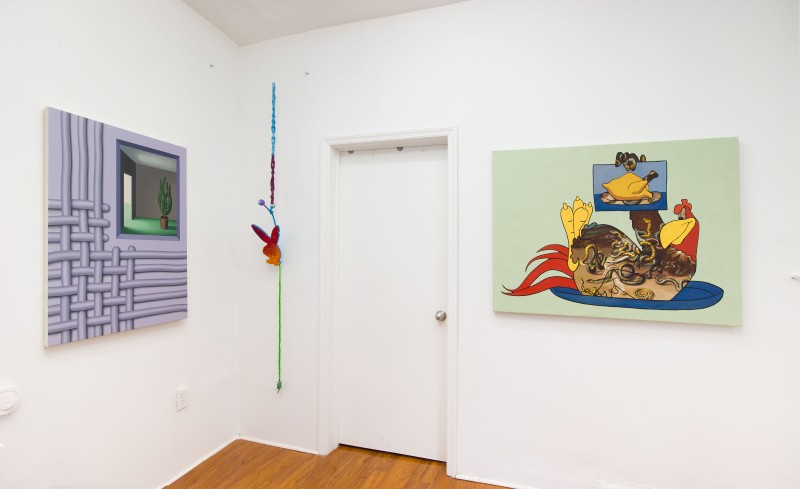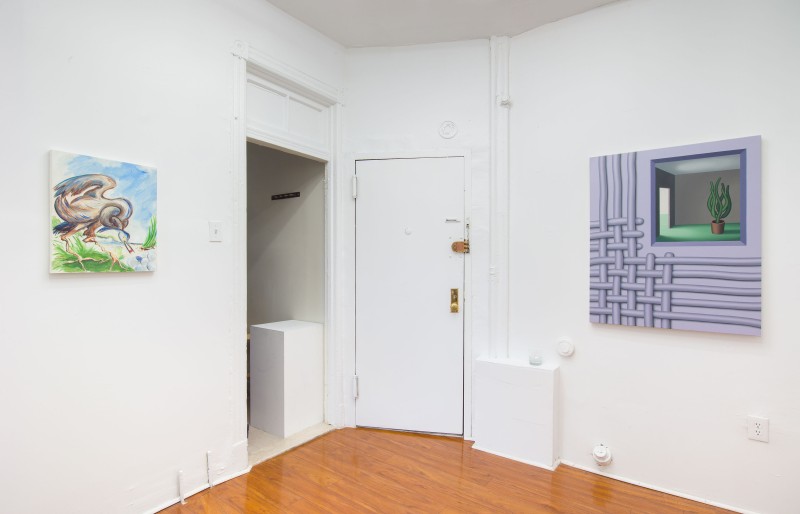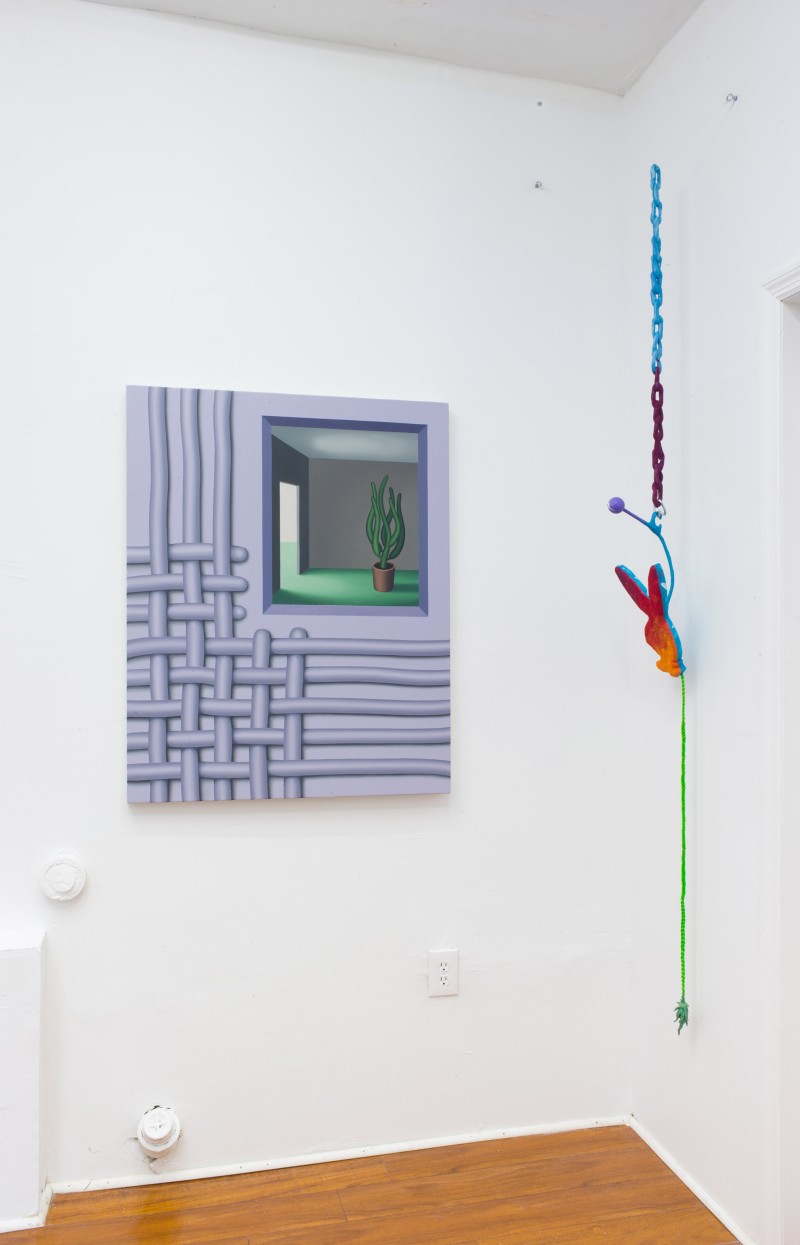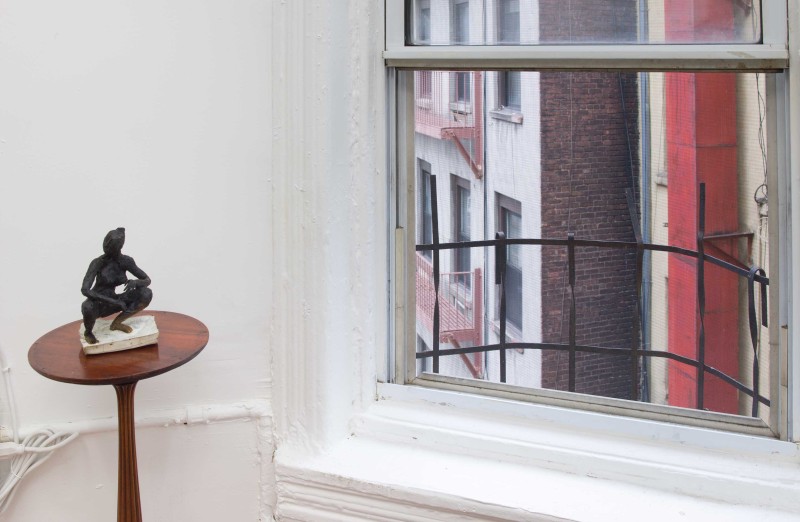 Fata Morgana
October 11 – November 11, 2018
77 Mulberry St, #12, New York, NY 10013
Y2K group is pleased to present a group exhibition curated at 77 Mulberry in New York. The artists in this exhibition work in varying degrees of illusion and surrealistic spaces whether through drawing, painting, or sculpture. Seemingly void of irony these images, spaces, or feelings they create remain genuine and playful. Many of these artworks have various perspectives on what is real and they share similar ideas about metamorphic to anthropomorphic space and form through otherworldly images, objects, and patterns.
The term "Fata Morgana" is a more complex mirage created by atmospheric and light interaction frequently seen over large bodies of water or in a large desert. The way an image is seen in relation to the horizon line is skewed and repeated in serial form creating a surreal and obfuscated perspective in a landscape not unlike what could be seen in a dream world. This exhibition draws influence from this unique phenomenon as it tries to bridge a trajectory between the realness, illusion, and dreamscape in the world or broadcasted through the subconscious created by each artist via: erotic surreal,  psychological surreal, illusionistic surreal, socio-cultural and political surreal, and the figure as it traverses near-reality.
Elizabeth Englander's sculpture in the exhibition is called "Piss Sculpture (after Rembrandt)" depicting a woman squatting. It is from a series of works where the artist imagines ways women could have public restrooms similar to ones for men. Stephanie Hier makes paintings and ceramics with an interest in the democratization of the image and the global access of how images are digested and disseminated in the realm of low brow or high art. Her imagery uses temporary tattoos and appropriation of early animators' cartoon imagery combined with her skill in rendered representation taking some influences from Dutch still-life. Diana Lozano's work plays with fashion accessories in a way to reference socio-cultural political spaces. Lozano references some women in Colombian military that ornate their uniforms to personalize themselves. Her sculptures are often suspended or on the floor that also re-imagine plant-life as the artists' parents were botanists and scientists. The work in the show is a large-scale belly-button ring hanging from chains mixed with synthetic hair. Emily Ludwig Shaffer's work presents psychological surreal interior/exterior spaces with objects devoid of the image of the figure but reveal a void of a presence. Shaffer finds inspiration from Persian miniature paintings and her mixture of representation and abstraction in space and form create these illusionistic scenes. Tanya Merrill also references paintings from art history but adds twists of unexpected violence oftentimes within the animal kingdom. The paintings start off as drawings and quickly become gestural paintings depicting these surreal landscapes with animals and sometimes with figures. Maureen St. Vincent creates surreal eroticized pastel drawings with artist made frames made in collaboration with a professional framer in San Francisco. The design of the frames are integral to the drawings as they have shaped curved edges or walnut frames with holes cut into it.
Elizabeth Englander (b. 1988) lives and works in New York. She will receive her MFA from Hunter College in 2019. Her recent group shows include: group show organized by Cloud Burst Advisory & Eli Ping (AND NOW, Dallas); it started with a rose (315 Gallery, Brooklyn), Under the Volcano (LOMEX, New York); Back Seat Driver (Interstate Projects, Brooklyn); GEST'S CANDLE at Kimberly-Klark (Queens); Century Waste (The Duck, Berlin); Leaves of Sage and Foot of Mammal on a Smooth Yellow-Ochre Background (U.S. Blues, Brooklyn)
Stephanie Hier (b. 1992, Toronto, ON), lives and works in Brooklyn. She received a BFA from the Ontario College of Art and Design. She has had solo shows at David Dale Gallery (Glasgow, UK), Downs and Ross (New York, NY), Neochrome (Turin, IT) and Johannes Vogt (New York, NY). Her work has appeared in group shows at Bureau (New York, NY), Alt Esc (New York, NY), Plus One Gallery (Antwerp, BE), and Et. al (San Francisco, CA), among others. She was recently a National Finalist for the RBC Painting Prize and a recipient of the Shandaken Storm King Residency.
Diana Lozano (b. 1992, Cali, Colombia), lives and works in Brooklyn. She received her BFA from The Cooper Union for the Advancement of Science and Art in 2013. She currently lives and works in Brooklyn. She has shown at the General Consulate of Colombia in New York, Fisher Parrish Gallery, Y2K group, AMO Studios,  La Mama Galleria, Splatterpool Art Space and former 99¢ Plus Gallery in New York, Casa Prado in Colombia, and Open Space in Baltimore.
Emily Ludwig Shaffer (b. 1988, San Francisco, CA) lives and works in Brooklyn and received a MFA from Columbia University. She recently had a solo show called Stone Tapestry (PACT, Paris). Recent group shows include The Sun is Gone But We Have The Light curated by RirKrit Tiravanija, (Unclebrother / Gavin Brown's enterprise, Hancock, NY); seafood stew, (Y2K group, New York); Without God or Governance, curated by JAG projects (Marinaro Gallery, New York); Protean Vessel(s) (Ellis King, Dublin).
Tanya Merrill (b. 1987, New York) lives and works in New York and received a MFA from Columbia University. Recent group shows include: Early 21st Century Art, organized by Bill Powers, (Almine Rech Gallery, London); Cliché, (Almine Rech Gallery, New York); The Sun is Gone But We Have The Light curated by RirKrit Tiravanija, (Unclebrother / Gavin Brown's enterprise, Hancock, NY); Look Her Way, (Thierry Goldberg Gallery, New York)
Maureen St. Vincent (b. San Luis Obispo, CA) lives and works in San Francisco she received a MFA from Hunter College. Recent exhibitions include: Good Poke, curated by Binder of Women, (0-0 LA, Los Angeles); seafood stew, (Y2K group, New York); Garden Dwellers, (Regina Rex, New York)