Frankie Phillips: Campbell Jenner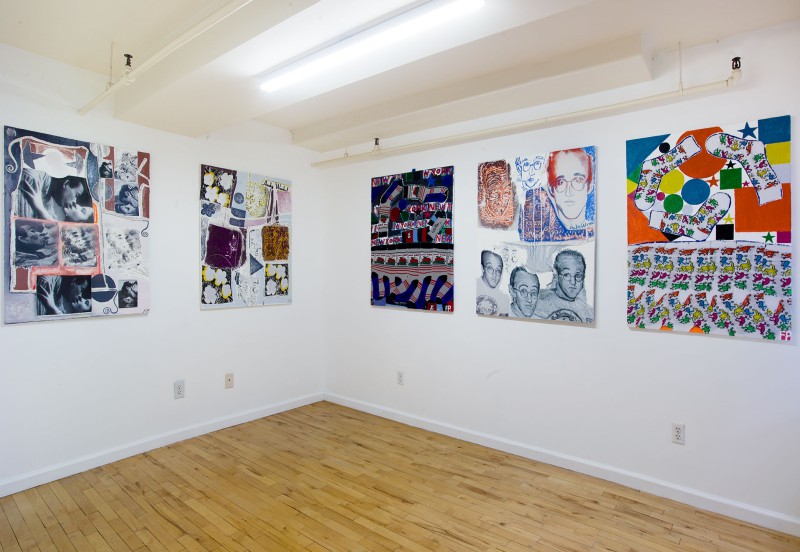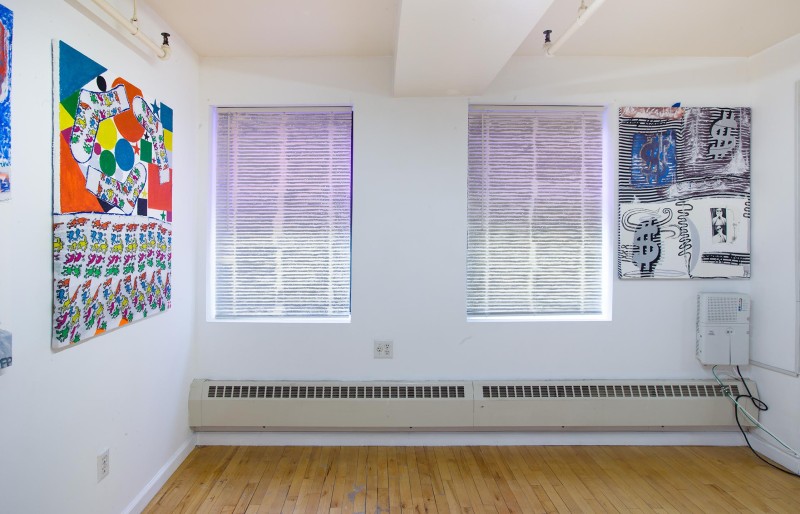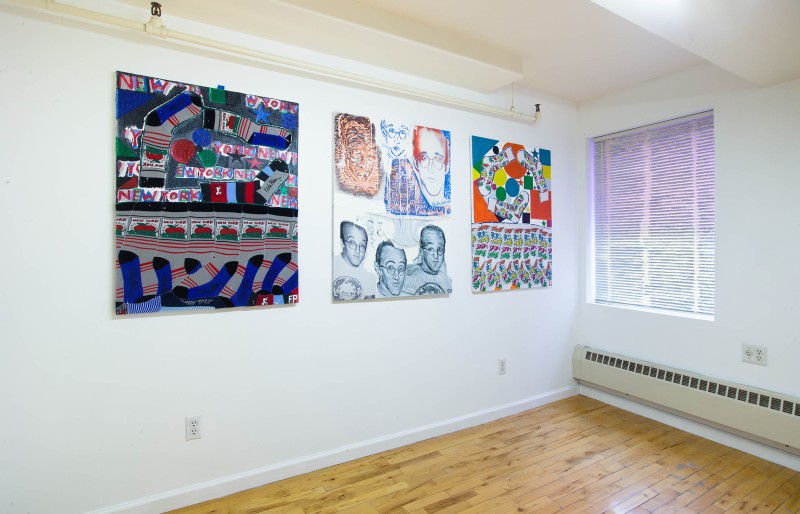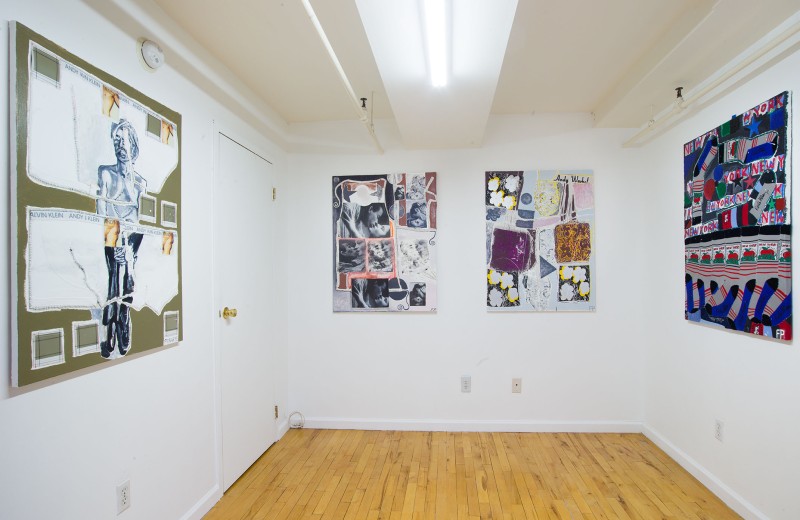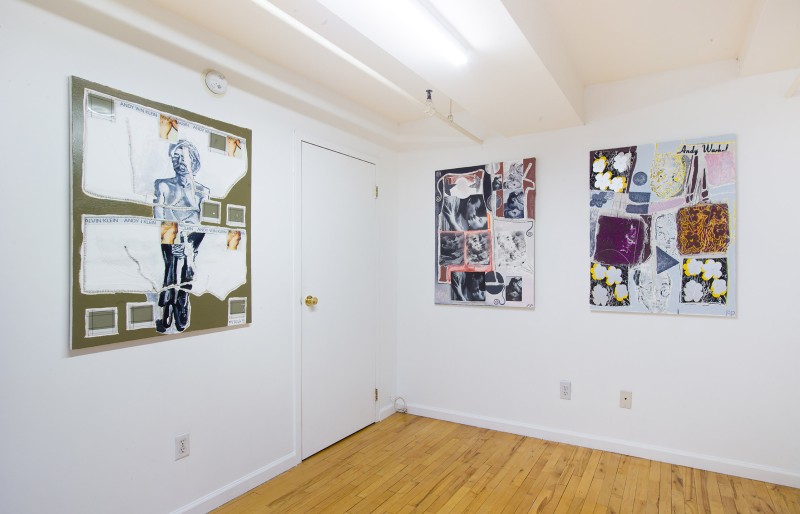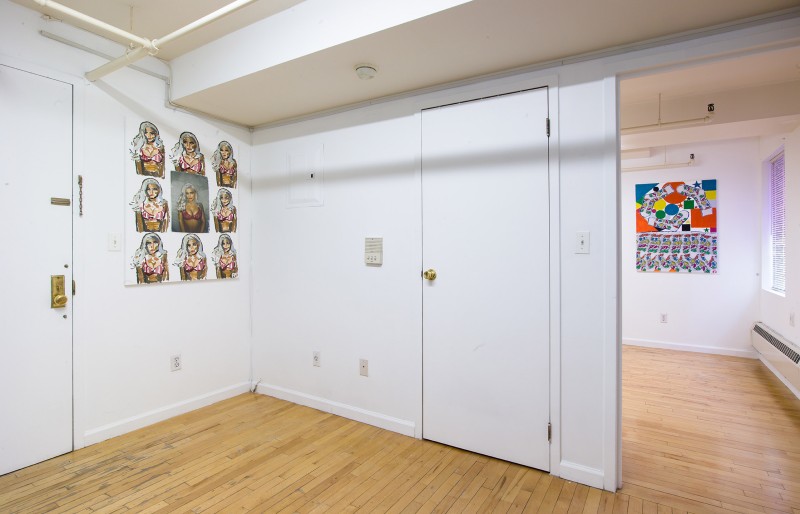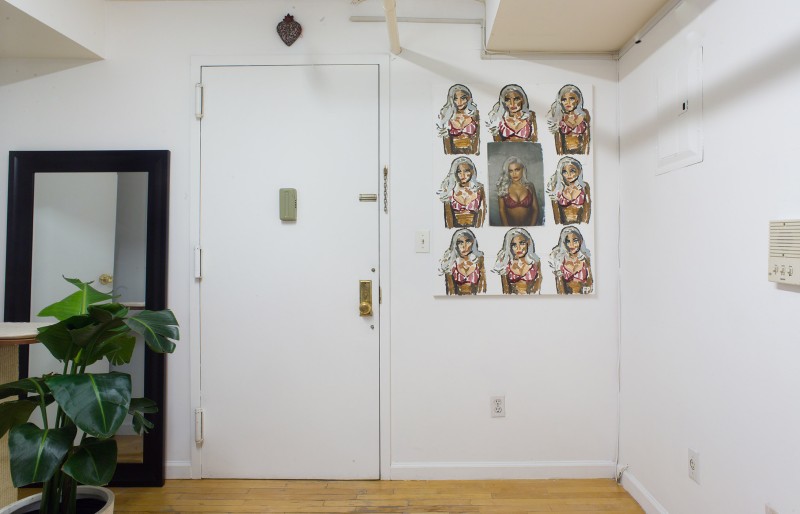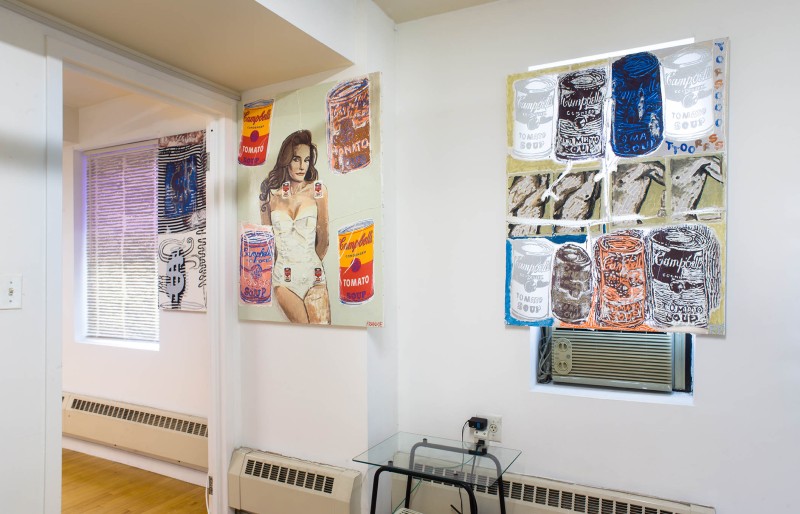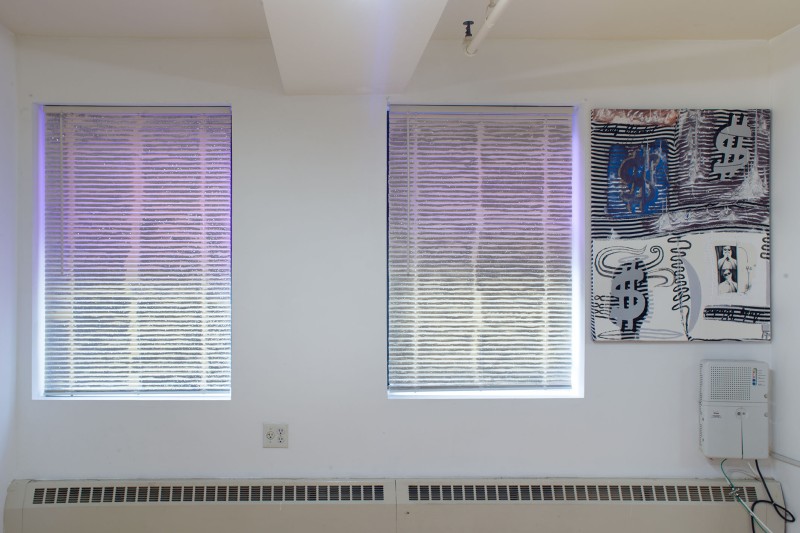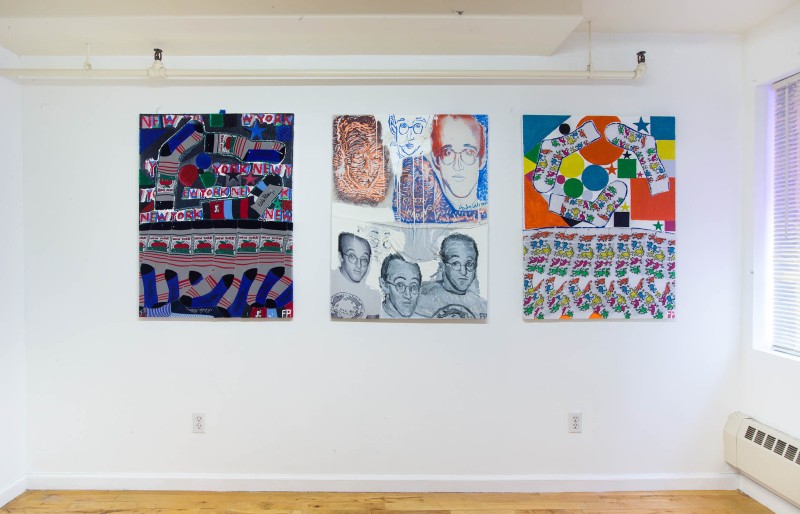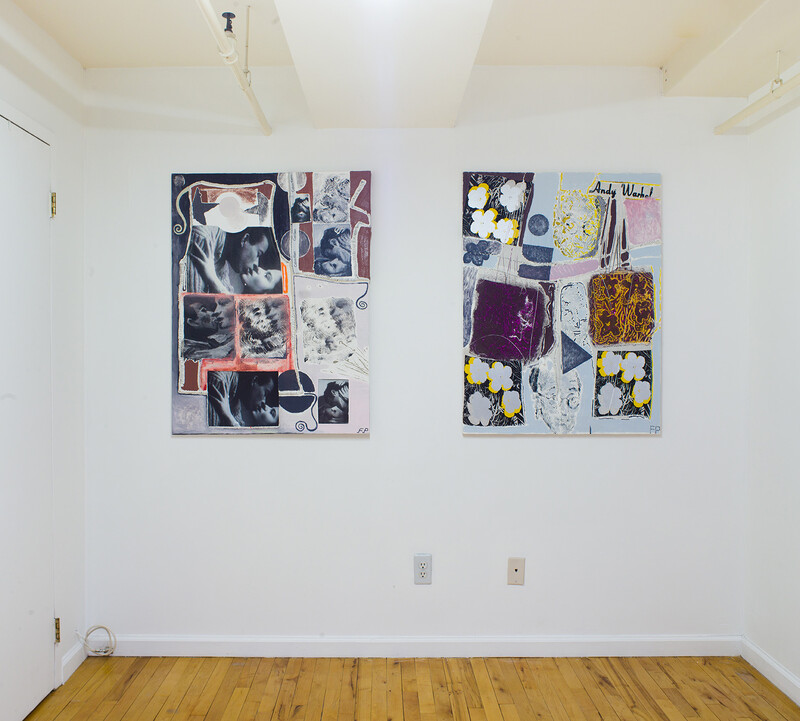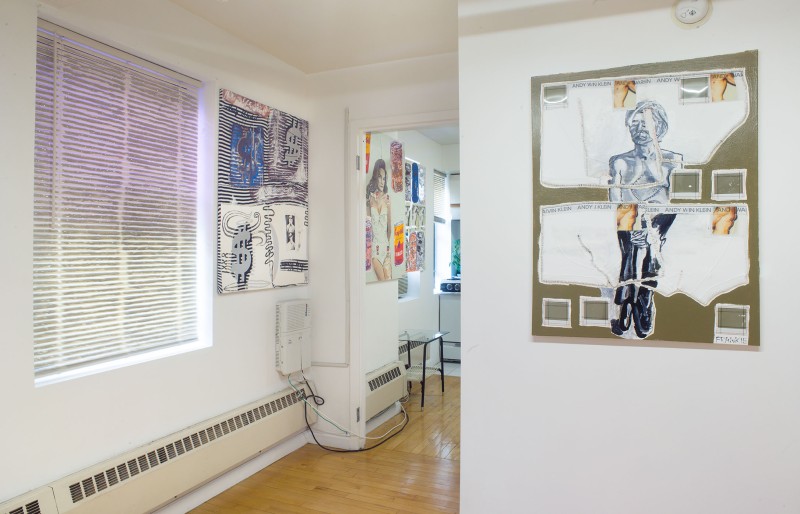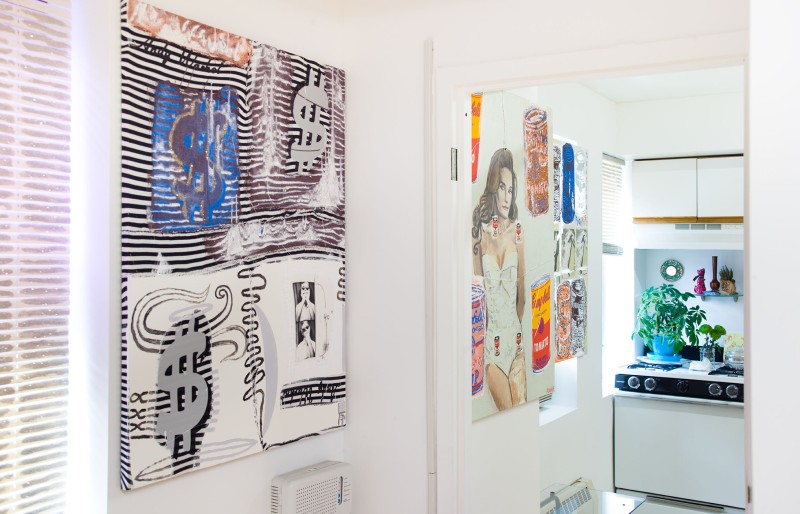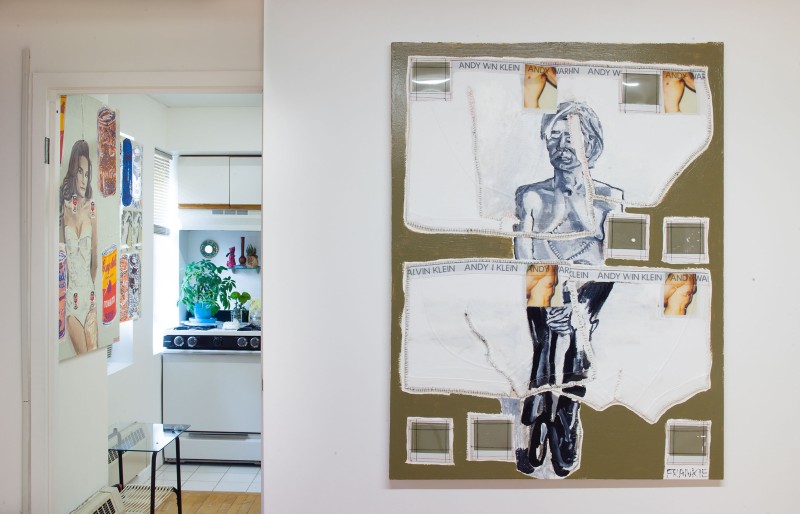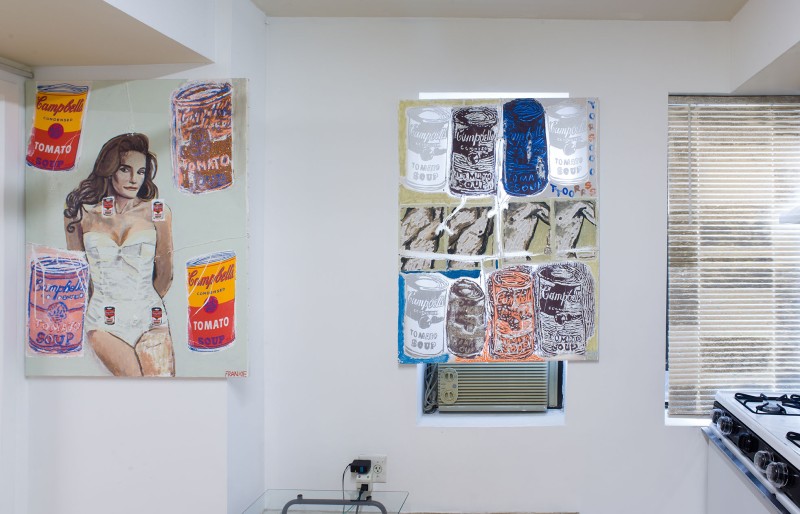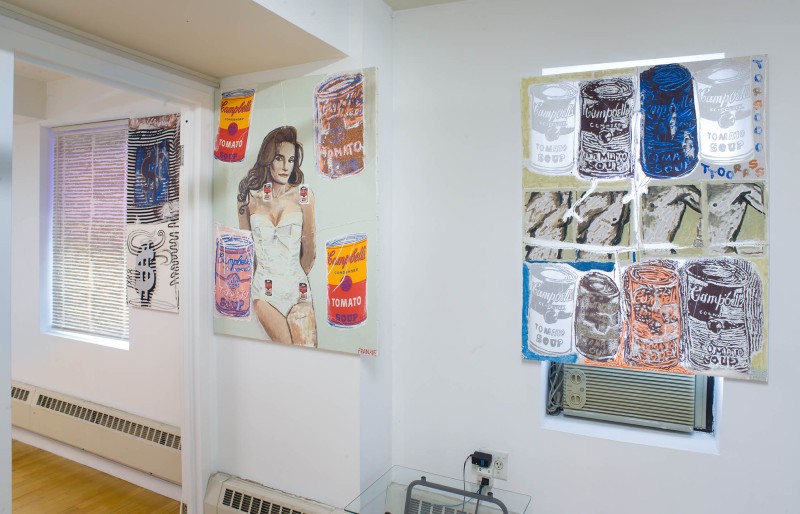 Frankie Phillips: Campbell Jenner
March 22 – May 5, 2019
565 Prospect Pl
#5A Brooklyn, NY 11238
Y2K group at 5A is pleased to present Frankie Phillips' second solo exhibition with Y2K.
In addition to canvas and oil paint, Frankie Phillips uses less traditional materials to make the work in Campbell Jenner including: t-shirts, underwear, socks, sand, and glitter. The majority of the works in this exhibition embrace purchased garments that have been produced with recognizable imagery from the work of two iconically detectable American artists. Other works include a reference to a work by the artist Alice Neel, and a t-shirt printed with the upper body of a very present day celebrity.
Phillips infuses printed imagery into the surface of each painting and often utilizes the garments as direct reference material for the painted elements in the resulting works. Faces, motifs, and colors are extracted from their points of reference and gracefully regurgitated back to the surface. These efforts are enhanced with happenstance–painterly marks and moments that celebrate process. In addition to the use of paint: socks, t-shirts, and underwear are carefully sewn together and onto the canvas bringing to mind the malleability and resilience of the human skin and body.
By contextualizing these low brow garments into paintings, Phillips both honors their origins and comically celebrates how their beauty and icon can be worn over the buttocks and feet of any given consumer. The series honors both Andy Warhol and Keith Haring's legacy as Phillips usurps the commercialized cycle of packaging historical artists and their work printed on clothing back into a conversation about art.
Campbell Jenner also features silver glitter window blinds, some party lighting, and an elevated bathroom experience all referencing the energy and atmosphere of Warhol's Factory: where people, art, and art making mingled in an intense tinseled zone that provided a backdrop for glamour of the highest order.
The title Campbell Jenner embodies the fusion of art historical content with a particular contemporary celebritydom. The exhibition's title represents a playful union between Andy Warhol's Campbell's Soup Can artworks and what people sometimes describe as "America's Most Famous Family." Like Warhol, his Super Stars, and more, this contemporary clan strongly embodies the self-made celebrity and prioritizes the projection of glamour and business of money making. Phillips believes the iconic status and infamous nature of this widely publicized tribe are a not only a valid choice of subject manner but a well-aligned layer in a Warholian discussion.
The inclusion of these celebrity figures, the use of particular materials, surrounded and supported by visual references to Warhol and Haring, bring questions to mind regarding: consumerism, queer culture, celebritydom and our collective cultural memories.

Frankie Phillips (b. 1988, Pennsylvania USA) lives and works in Ridgewood in Queens, NY. He received a BFA from Rhode Island School of Design in 2010. Phillips will be in an upcoming group exhibition called mushrooms organized by Y2K group opening April 4th off-site at 7 Franklin Place, New York, NY.
 Recent group exhibitions include: Orgy Park (Brooklyn, NY); Honey Ramka (Brooklyn, NY); Mana Contemporary (Jersey City, NJ) and pop-up solo and group exhibitions with Y2K group in Brooklyn and Maspeth, NY.