Laura Bernstein: Illuminator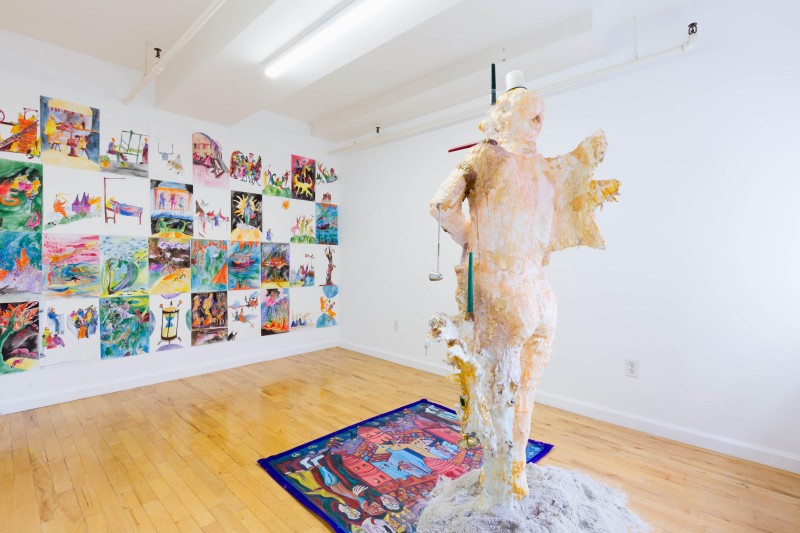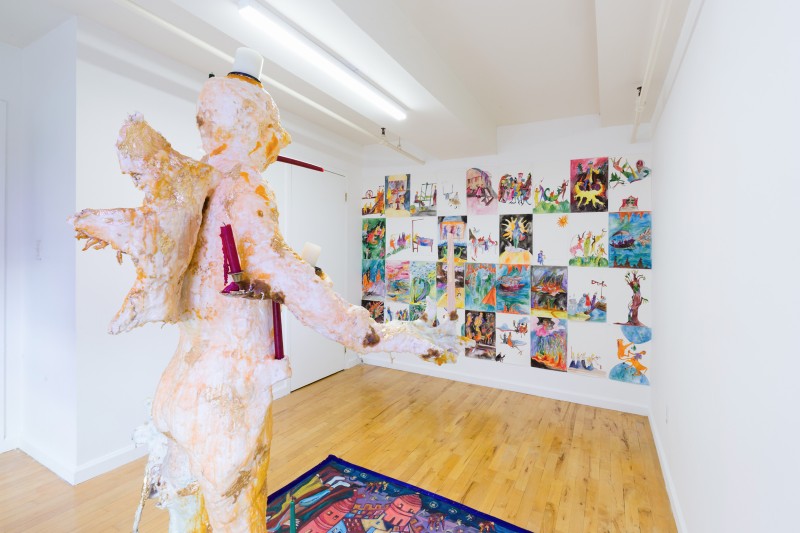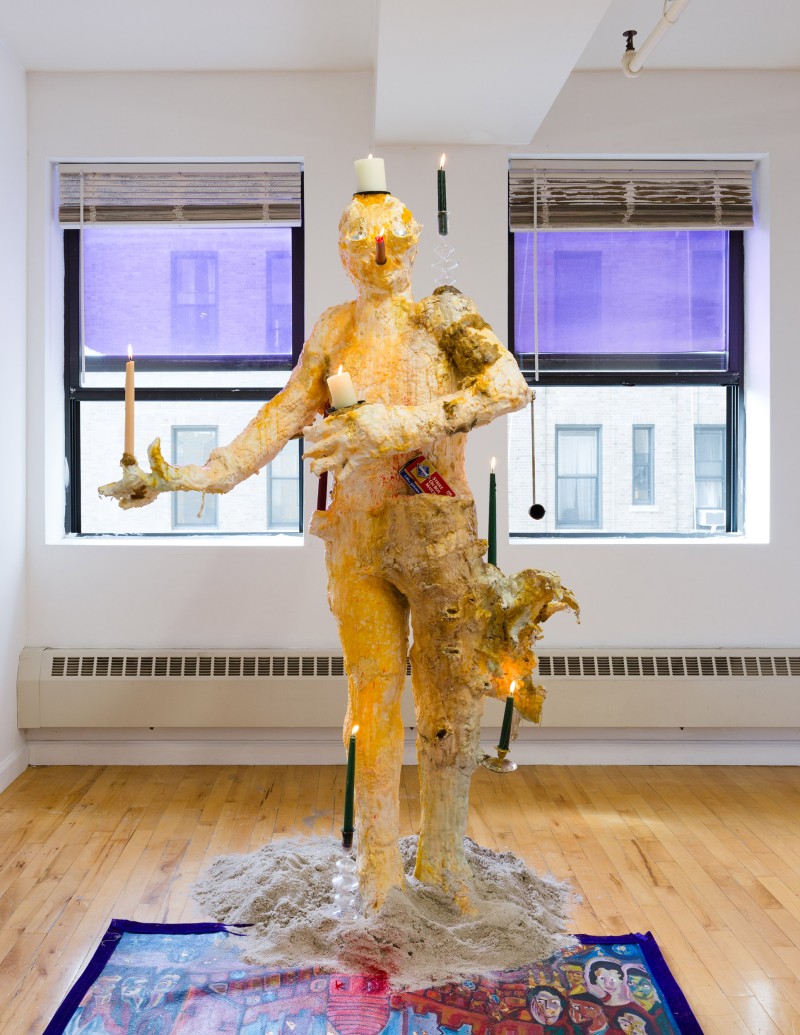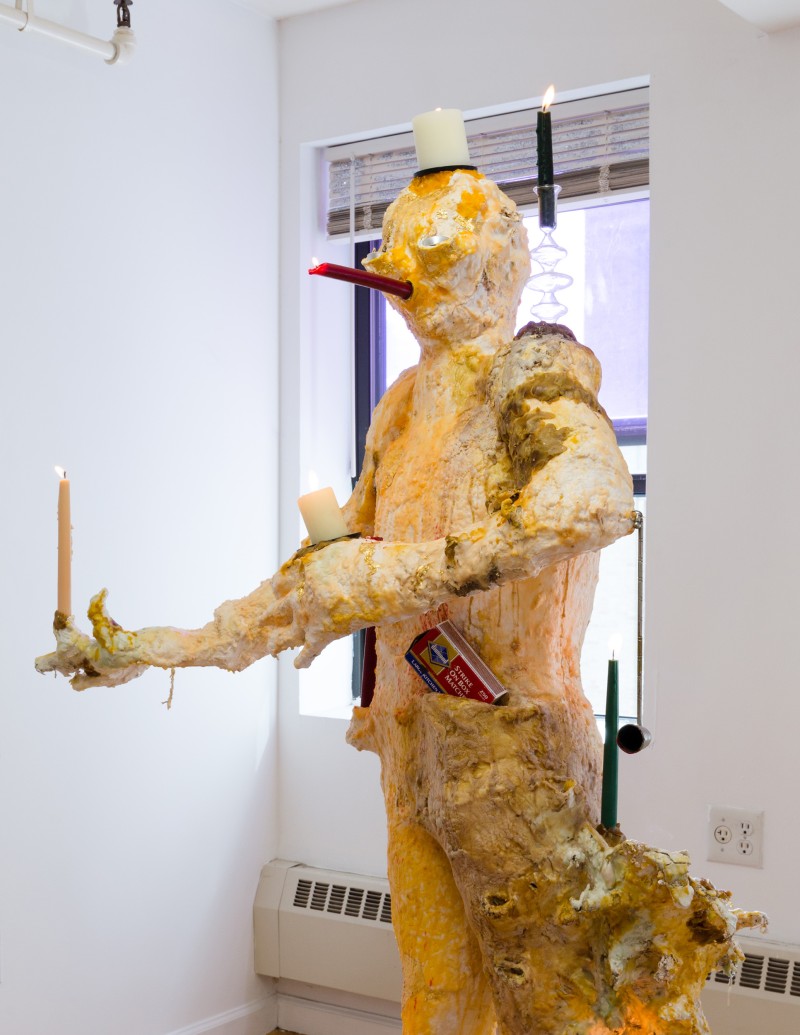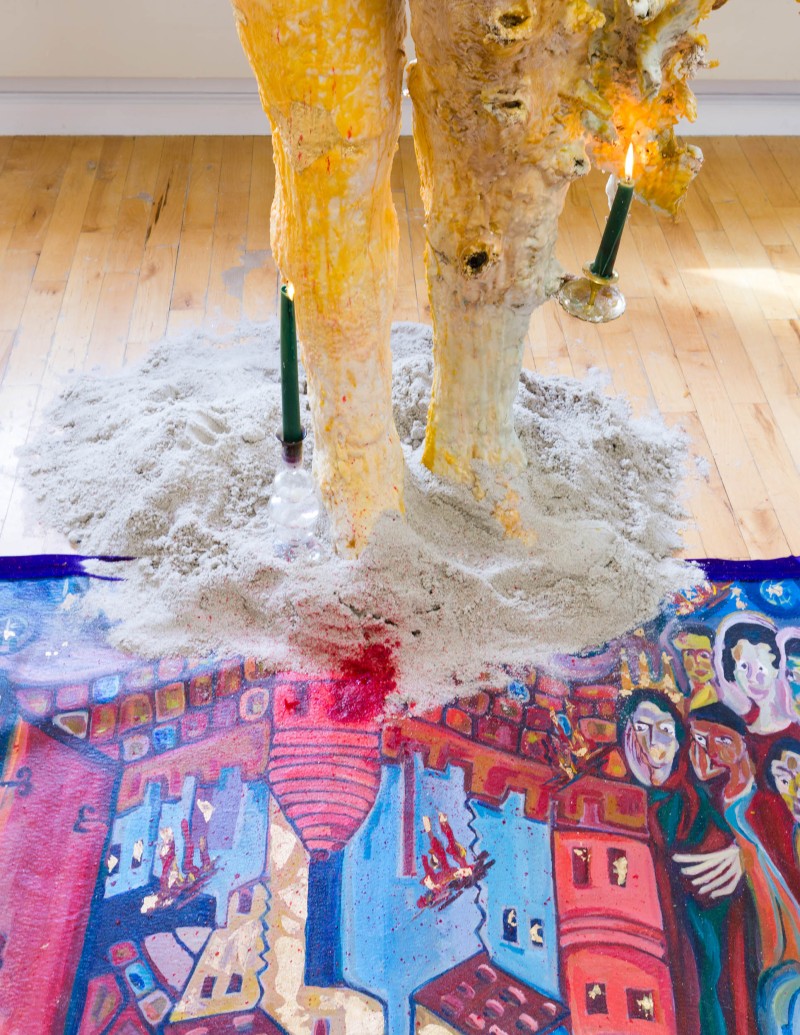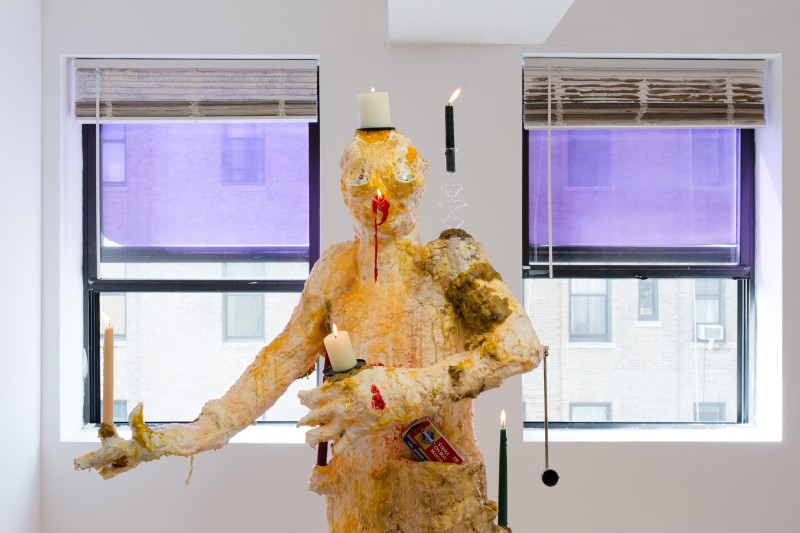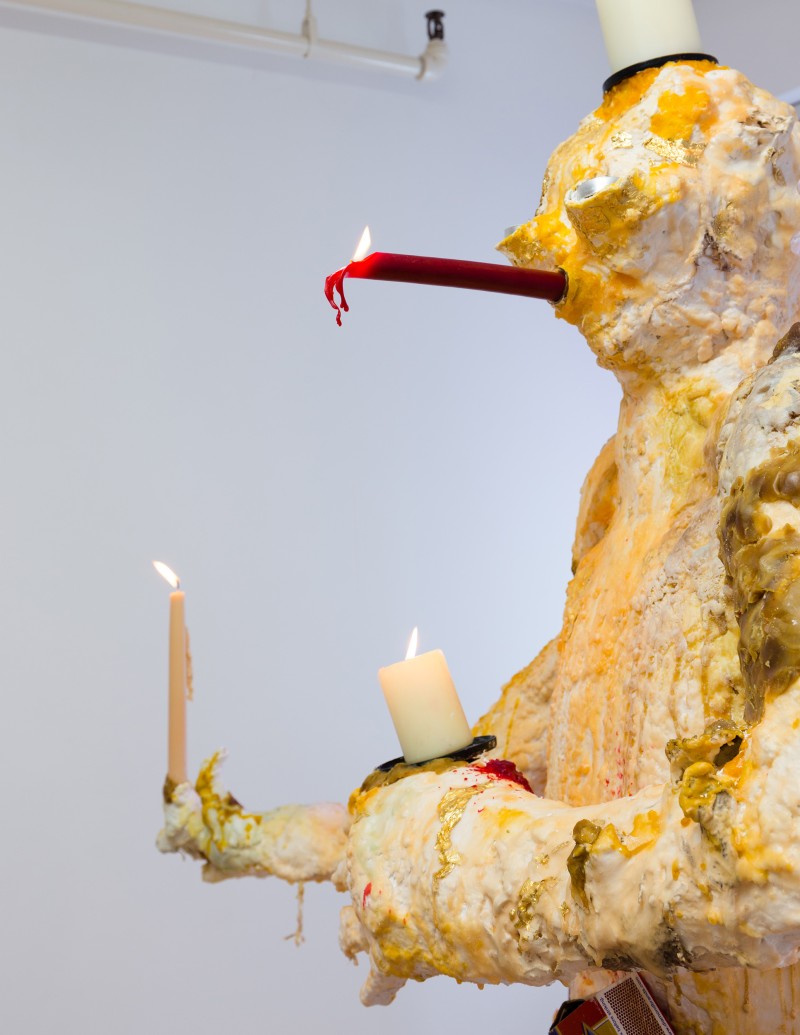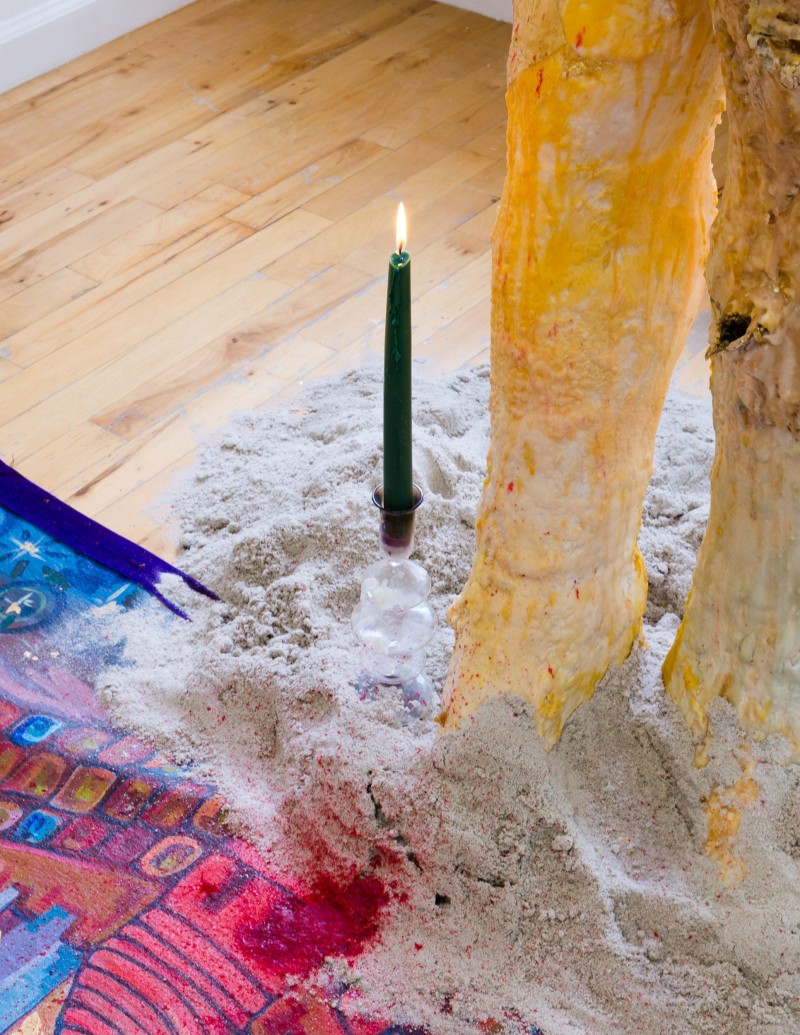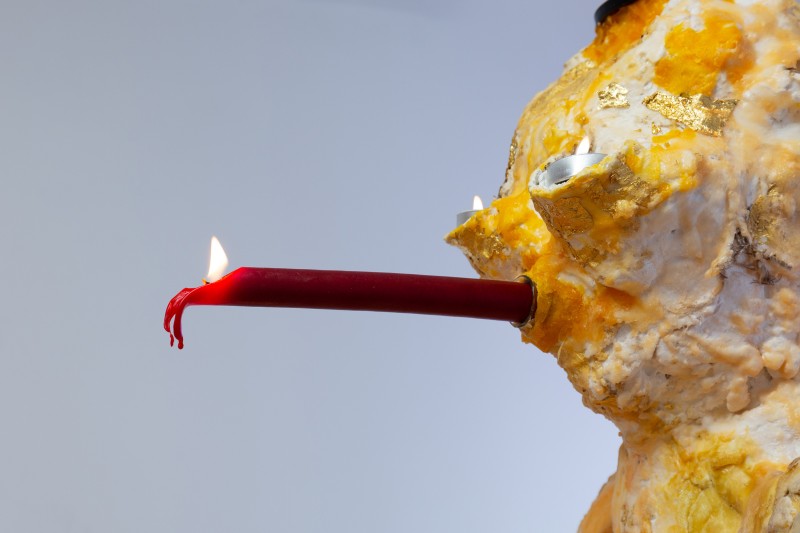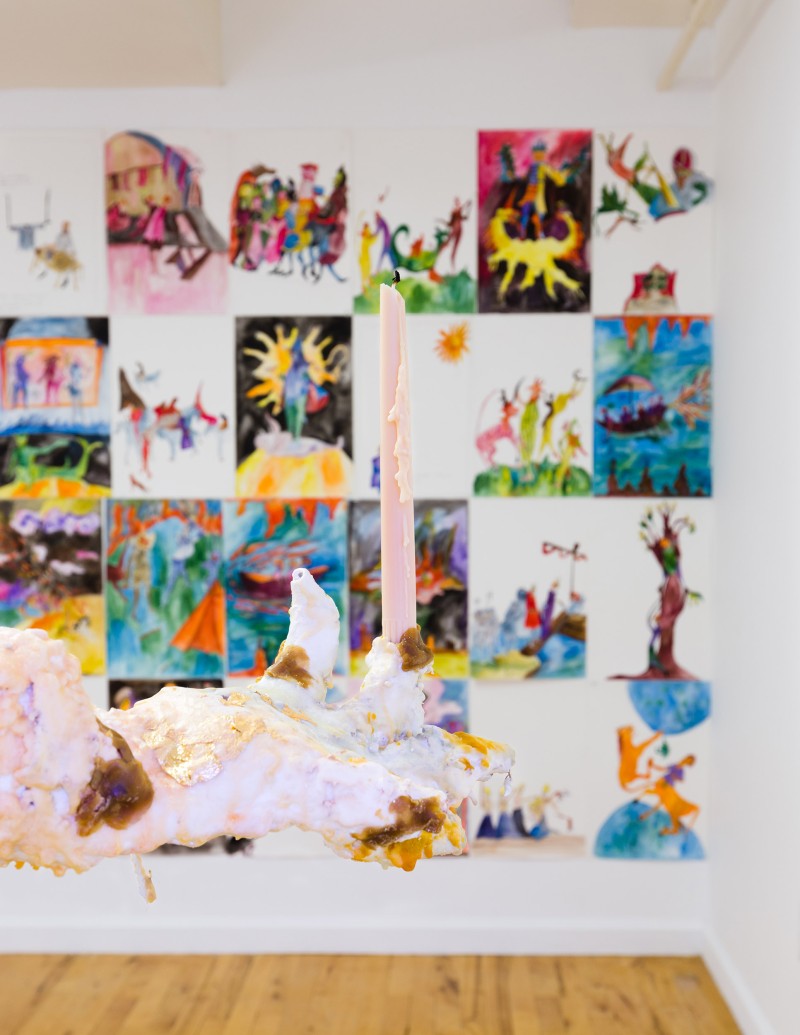 Laura Bernstein: Illuminator
October 4 – December 1, 2019
565 Prospect Pl
#5A Brooklyn, NY 11238
Y2K group at 5A is pleased to present Laura Bernstein's first solo exhibition with Y2K.
Illuminator is an exhibition by Laura Bernstein composed of new sculpture with painting, works on paper and video. In this installation, Bernstein works within the liminal space of pictures and words while drawing on the imagery of anonymous authors who illuminated medieval manuscripts. Illuminator centers itself around a sexless wing finned figure, embedded with candles and barnacles--a humanoid candelabra--dripping, melting and congealing fleshy, gilded wax. Though the monks and nuns who illuminated manuscripts were forbidden from working in the dark or using candles for fear that their illuminations might go up in flames, Illuminator is built to both emit light and act as an alter/vessel for prayer. Presiding over a floor painting depicting the Fall of Babylon as an upside down city from Bamberg Apocalypse 1000 A.D, Bernstein's works explore loss as a form of transformation that provides clarity of vision. Bernstein meditates on illuminated manuscripts as early picture books, stone animals as gods, and fire and water as fundamental tools for animation.
In Pages From An Apocalyptic Picture Book, Bernstein reinterprets thumbnail images from the margins of encyclopedias of western civilization documenting medieval times. Infusing the black and white pictures with color, and adding, omitting or reorienting the composition and scale, Bernstein looks to these flat pictures in an effort to understand images as a form of narrative building rather than art.
Animals That Turned To Stone is a video by Bernstein made in collaboration with Emily Taibleson on a recent trip to Rome, where Bernstein and Taibleson both studied ten years ago, in 2008. Their 2019 trip marks the first time they have both returned. Traversing the city on a "stone safari", Bernstein and Taibleson went in search of dragons, lions, falcons, serpents, centaurs, Sphinx's and more to capture and record all the beasts they could find (within reach). Simultaneous to filming, they read to each other aloud from the epic poem "Metamorphoses" by the Roman poet Ovid. Within this digital document, Bernstein and Taibleson contemplate the symbolism, mythology, morality and spirit of the ancient stone beasts filmed within the context of our climate crisis. Propelled by the current administration's denial of and inability to protect, preserve, and remediate and restore our environment and the countless species at risk of extinction, Animals That Turned To Stone looks to the calcified past to speculate on the petrified future where creatures once alive, exist only in stone.
"The dolphins
Invade the woods and brush against the oak-trees;
The wolf swims with the lamb; lion and tiger
Are borne along together; the wild boar
Finds all his strength is useless, and the deer
Cannot outspeed the torrent; wandering birds
Look long, in vain, for landing-place, and tumble,
Exhausted, into the sea.
The deep's great license
Has buried all the hills, and new waves thunder
Against the mountain-tops. The flood has taken
All things, or nearly all, and those whom water,
By chance, had spared, starvation slowly conquers."
P. 12 book one -Ovid, Metamorphoses" translated by Rolfe Humphries.

Laura Bernstein (b. New York) lives and works in Brooklyn. She received a BFA from Rhode Island School of Design and a MFA from the University of Pennsylvania. She has had a solo exhibition at NURTUREArt (Brooklyn, NY) and recently completed a solo project called "Hybrid Ecologies" at Children Museum of Arts (New York, NY). Recent group exhibitions include: mushrooms, Y2K group (off-site), New York, NY); BRIC (Brooklyn, NY); The Bronx Museum of Arts (Bronx, NY), Vox Populi and The Icebox (Philadelphia, PA). Residencies include: The Sharpe-Walentas Studio Program, The Bronx Museum of the Arts AIM program and its Fourth AIM Biennial, The Lighthouse Works Fellowship, Fishers Island, NY; and Vermont Studio Center. Her work is in the permanent collection of the National Dance Institute of New York.