Marcela Flórido | Gustavo Prado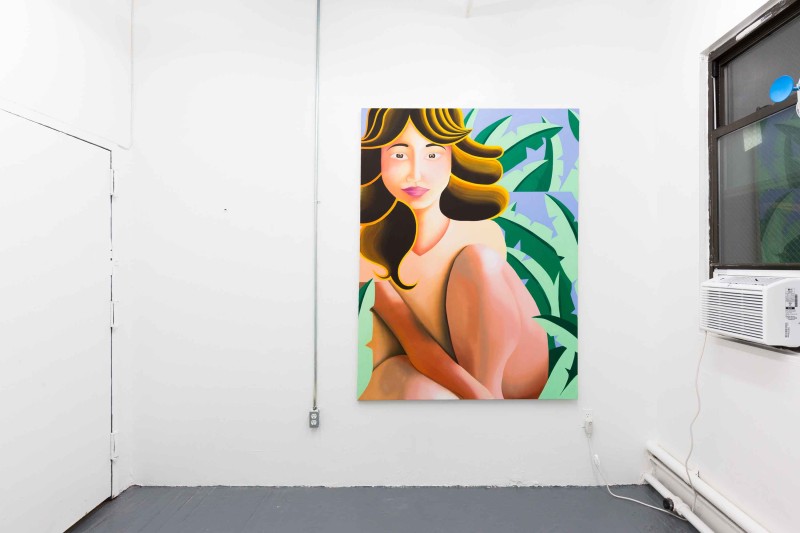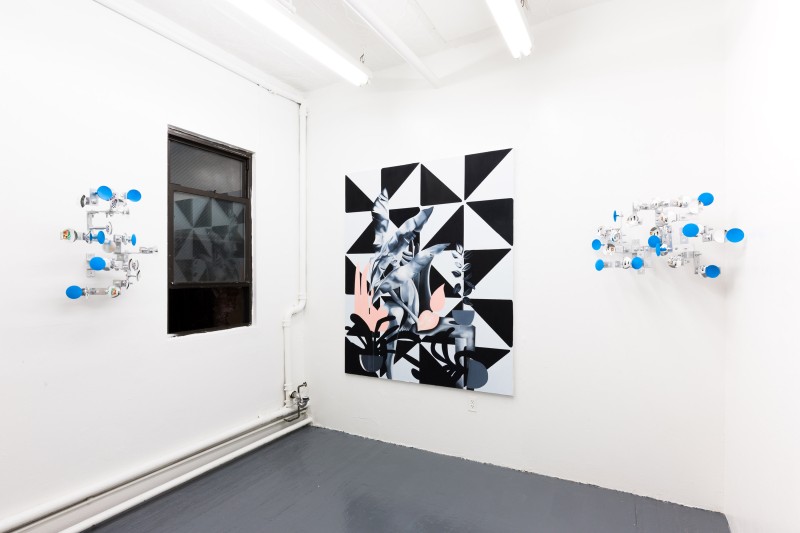 Marcela Flórido | Gustavo Prado
September 14 – October 19, 2019
373 Broadway #518
New York, NY 10013
Y2K group is pleased to present a two-person exhibition of new works by Marcela Flórido and Gustavo Prado.
The Brazilian-born and Brooklyn-based artists Marcela Flórido and Gustavo Prado are exploring identity as it relates to their cultural history. Their works share an art historical concern for the legacy of Brazilian modernism, specifically "Neocretism," in relation to themes of self-portraiture, the viewer's gaze, and participation with the works.
Marcela Florido's new paintings continue to explore the female protagonist as a hybrid of the artist and other women in her life. The figures interact with abstracted environments both internally and externally. In the painting 15, the figure's gaze confronts the viewer creating a space for participation with the work by projecting desire. The painting called Aquela creates a symbolic, mysterious, and fantastical composition rather than a traditional depiction of reality. The fragmented and monochromatic background is a direct reference to the legacy of Brazilian modernism and the lingering presence of geometric abstraction in contemporary art. The seated figure faces the viewer with their sight obstructed by a leaf as a metaphor for identity and otherness.
Flórido's paintings explore the visual vocabulary between a traditional European approach to depicting space and a Latin American sensibility toward geometric abstraction and a "concretist" tradition. The context of the paintings are crucial for Flórido as she is interested in the history and setting of modern and contemporary art in Brazil as it relates to the country's cultural identity. These ideas were first introduced by artists from the 1960's including: Carmen Herrera, Teresa Burga, Ligia Clark, Zillia Sanchez.
Gustavo Prado is a Brazilian sculptor whose work also resides in the negotiated space of Europe's influence in the creation of art that deals with Brazil's cultural identity. Prado's sculptures are meditations on the act of gazing and space either external, fabricated, real, or internal within a larger context about surveillance, voyeurism, narcissism, information overload, the right to privacy, and self-identity. His sculptures use concave and convex mirrors that reflect a fragmented body seen from unexpected angles within different points in space. This relates to the representation and abstraction of the body from Brazil's art history. The mirrors are affixed to a network of metal structures creating an "anti-camera" by obfuscating and reflecting the viewer's space with multiple viewpoints rather than a fixed and singular image.
Prado's site-specific mirrored sculptures installed with Flórido's paintings create a space for reflection with one another's personal and cultural histories by examining the myriad interpretations of identity today shared and within.

Marcela Flórido (b. 1988, Rio de Janeiro, Brazil) lives and works in Brooklyn, NY. She received an MFA from the Yale University School of Art in Painting in 2015 and a BFA from The Slade School of Fine Art, UCL, London, UK in 2013. Recent exhibitions include a solo exhibition titled "Laços," Anita Schwartz Galeria de Arte (Rio de Janeiro, Brazil); "mushrooms," Y2K group (off-site), (New York, NY); "Costilla de Adan (Monstera Deliciosa) with Florencia Escudero, Kristen Lorello Gallery (New York, NY); Thierry Goldberg Gallery, (New York, NY); "SLIP: Sarah Faux, Marcela Flórido, Tschabalala Self," Stems Gallery, (Brussels, Belgium). She has completed residencies at Tilleard Projects, Lamu Island, Kenya, Mass MoCA, North Adams, MA, and The Vermont Studio Center, Johnson, VT. She is the recipient of a 2015 Viridian Artists' Prize, selected by Lauren Hinkson.
Gustavo Prado (b. 1981, São Paulo, Brazil) lives and works in Brooklyn, NY. He studied Philosophy and Industrial Design and received his artistic training at the School of Visual Arts of Parque Lage in Rio de Janeiro, Brazil. Prado is a recipient of the "Projéteis" Contemporary Art Award by the Brazil's National Foundation for the Arts (Funarte). He represented his country in "The Year of Brazil in France" as part of a larger exhibition at the "Le Carreau du Temple," Paris. He has participated in residency programs such as "Rumos" at São Paulo's Itaú Cultural Foundation; and the AIM Program at the Bronx Museum in New York. Prado's works are in the collection of the Museu de Arte Moderna do Rio de Janeiro (MAM-Rio) and he has recently shown a large-scale installation at the Coachella Music Festival in California. Prado has also published critical essays in several of Brazil's art publications and is an editor and co-founder of Jacaranda Magazine