Stephanie Hier: Gridded and Girdled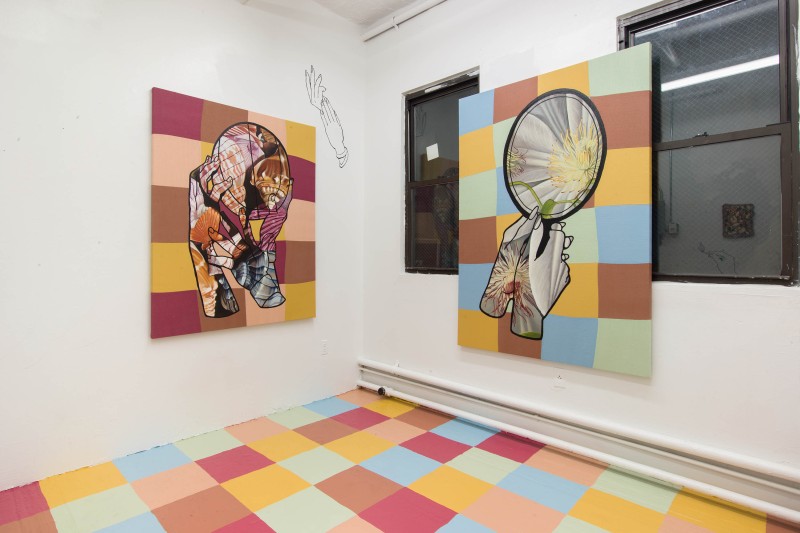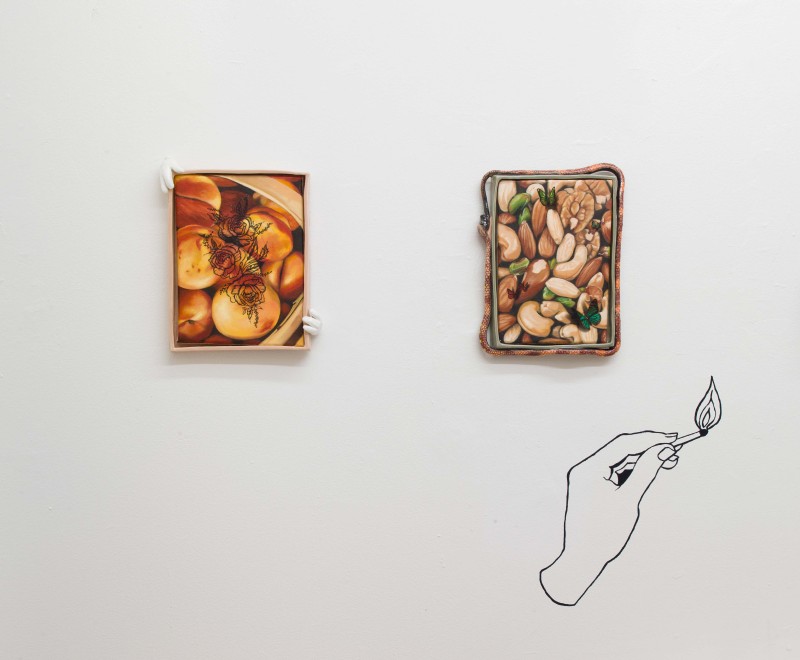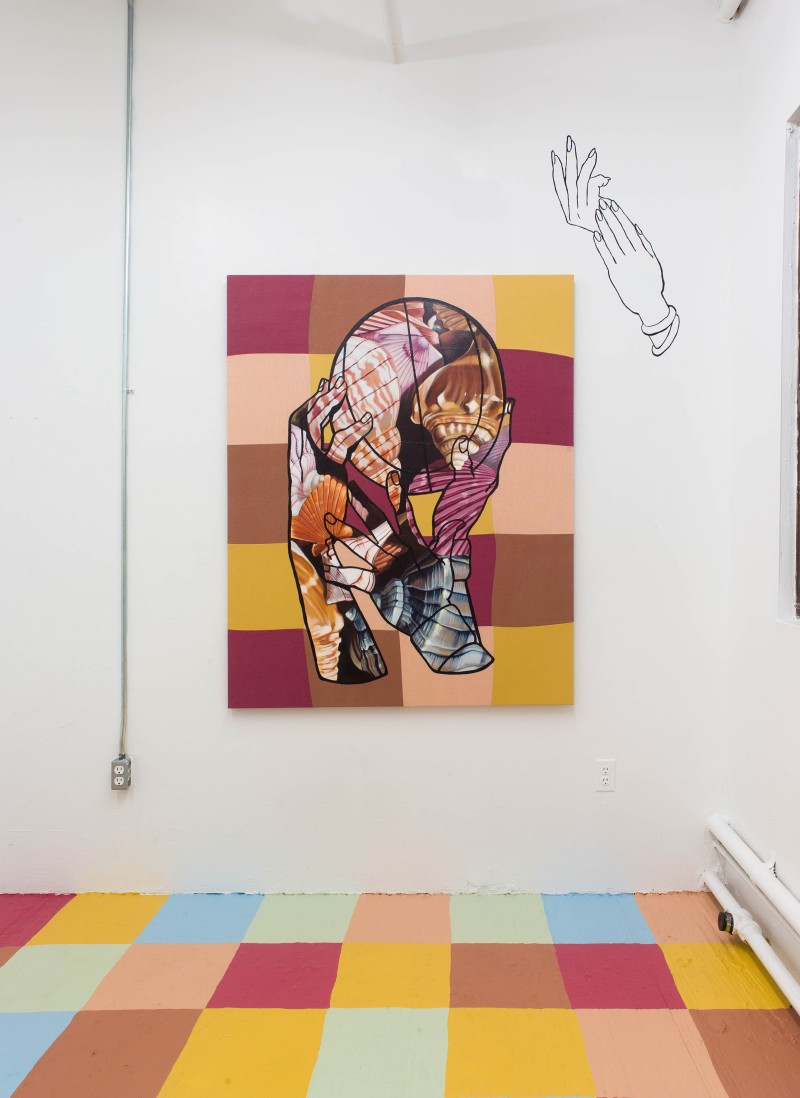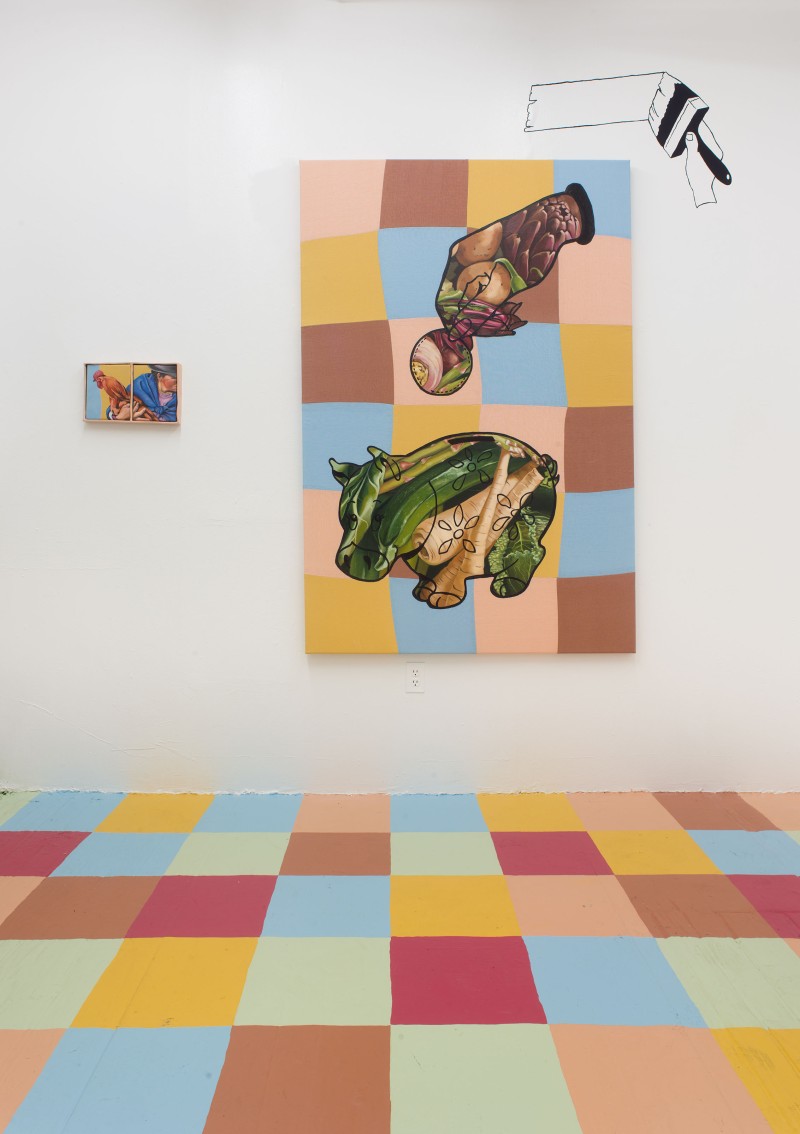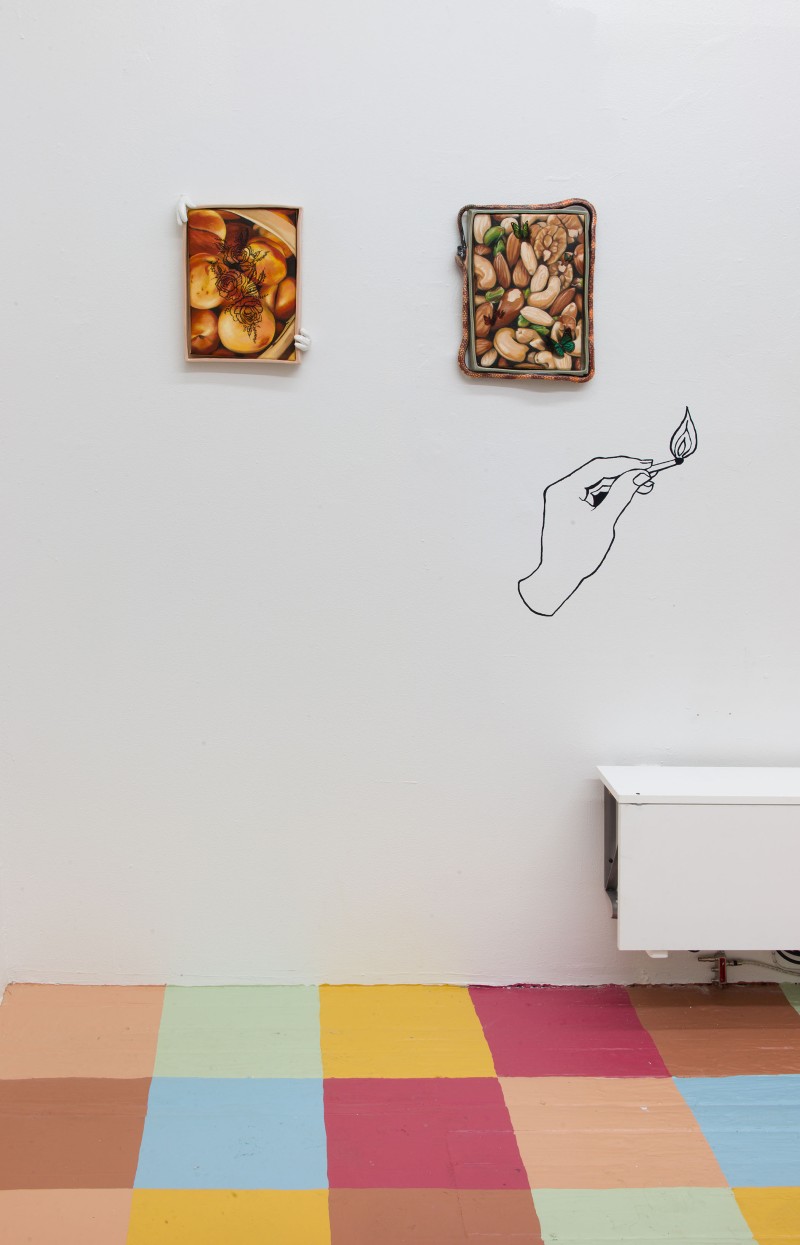 Stephanie Hier: Gridded and Girdled
February 16 – April 7, 2019
373 Broadway #518
New York, NY 10013
We are pleased to present Stephanie Hier's third solo exhibition in New York and second showing with Y2K group. Stephanie's work was previously included in a group exhibition at 77 Mulberry in New York last fall curated by Y2K.
Nothing sits in isolation. Ideas and objects are emboldened by their neighbors, their relationships constructed by context. Increasingly so, as we navigate our way assisted by the internet, no idle query is protected against the danger of an afternoon lost down the rabbit hole of search to search. It is within this flatness of possibility that Stephanie Hier's practice emerges, paintings that fold in imagery and symbols from a multitude of seemingly disjointed sources; pop culture ephemera, stock imagery, temporary tattoos, canonical material. There is always a connection to be made, a narrative to be drawn. Hier's practice is a witty exploration of visual culture in the Information Age which reaches out to the very boundaries of painting to create a semiotic language both rich in it's use of history, and feather-light in it's cheeky use of pop-cultural ephemera. Her arsenal as an artist is as variegated as her palette, using clay, linen, dyes, and oil paint to create a new language with which to relay her vision. The quilted grids of linen, literally the warp and woof of the show, set the stage for new dialogues to emerge.
Stephanie Hier's Gridded And Girdled is a full-scale installation spanning the near entirety of the gallery. This new body of work is characterized by the historicity of quilting, from craft-culture to pop-culture. The support of the large paintings consist of six colored linens, some hand-dyed, quilted together in a pixelated grid. The same palette and pattern in the paintings is reproduced by the artist on the floor of the gallery; symbols akin to those present in the paintings have also been applied to the walls on which they hang. The migration of paint from the traditional confines of the canvas to the walls and floors of the space reflects Hier's interest in creating immersive spaces, blurring the line between where the work begins and ends. Using the gallery to further the dialogue between her work, Hier dissolves the demarcations between each piece and manages to weave them into a harmonious unity; each representing a part of a larger gestalt, a unique square in the overall quilt of her practice. As such, her hand feels present in the total anatomy of the show, from its materiality to its production to its ultimate mechanism of display.
The use of contemporary cultural symbolism articulates an inherent logic within our visual systems, but also sits in opposition to her traditional handling of paint, speaking to both how we traverse images and how we place art or painting within it. A frequent trope, her use of temporary tattoos on the painted surface, marks this process and lend the work a welcome levity and playfulness. The tattoo butterflies fluttering over a geological range of nuts in More twists than a barrel of pretzels integrate onto the oil paint in a surprising trompe-l'œil. This coalescence also creates a non-hierarchical picture plane allowing for references from various cultural locations to integrate. Girdling the painting is Hier's sculpted ouroboros frame, one of three hand-wrought ceramic pieces in the show. The sculpted frames point to another facet of craft culture while grounding the paintings in the three-dimensional realm.
By flattening layers of disparate imagery, Hier displays oft-times loony meditations on the mythology of symbols, catalyzing a process of interpretation in the spectator. In I'd Go A Mile For A Chuckle, Hier creates a space for piggy banks, agriculture, economics, nature, cartoons and clip-art to elicit new threads of meaning, all amidst the context of painting and craft-culture. It is this very process that drives Hier's work.
Gridded and Girdled weaves Stephanie Hier's practice into a cohesive, calculated whole. Every element is relational to another, creating dialogue between content and form. As such, there is a self-reflexivity and self-awareness that permeates the show, pointing at once to the process of art making and also to the end result in a circulatory way. In this sense, perhaps the essence of the show lies somewhere between the ouroboros eating it's own tail and the quilted linen, weaving the work into a singular visual experience.

Stephanie Hier (b. 1992, Toronto, Canada) lives and works in Brooklyn, NY. She received a BFA from Ontario College of Art and Design University in 2014. Recent solo exhibitions include: David Dale Gallery, (Glasgow, UK); Downs and Ross (New York, NY); NEOCHROME (Turin, Italy); Johannes Vogt Gallery (New York, NY). Recent selected group exhibitions include: PLUS-ONE Gallery (Antwerp, Belgium); Thierry Goldberg Gallery (New York, NY); Bureau (New York, NY); Museo della Frutta (Turin, Italy); and Et. Al (San Francisco, CA). In 2018, Hier was a National Finalist for the RBC Painting Prize and resident at Shandaken: Storm King in New Windsor, NY.